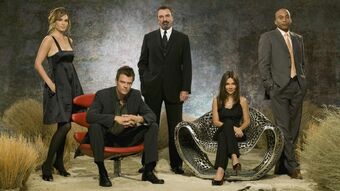 Las Vegas is set around the fictional Montecito Casino in Las Vegas, Nevada. The show centered around a team of people working at the Montecito who have to deal with different things that happen to them or to the Montecito.
Danny McCoy works as the head of security and surveillance until Ed's departure when he get's promoted to President of Operations, working alongside Danny and is an ex-valet is Mike Cannon. Ed Deline was the Montecito's president of operations until he left in the season premier of season five, Mary Connell was the hotels events director for seasons one and two until she was given the job as hotel manager in season three, she had this job until her departure in season four. Samantha Jane Marquez is the hotels feisty casino host, Nessa Holt was the Montecito's pit boss and 'best pit boss in Las Vegas' until she left in the season final of season two, Delinda Deline is Ed Delines daughter who works as the Montecito's entertainment manager and AJ Cooper served as the Montecito's boss in season five.
This fast-paced, sexy drama that follows the elite Las Vegas surveillance team charged with maintaining the security of one of "Sin City's" largest resorts and casinos was created by Gary Scott Thompson in 2003.